Auguste Blackman
Born 1957, Melbourne, Australia
Auguste Blackman was born in Melbourne in 1957 to an artist father, Charles Blackman OBE, and writer mother, Barbara Blackman AO. He was immersed in an artistic life from birth and began carving out his own world of images and creativity at an early age. He began painting and drawing while simultaneously pursuing a career as a curator and printmaker, before evolving into a professional artist. In his work, Blackman harnesses his natural training inherited from his family culture, together with extensive formal training to create his own genre of figurative expressionism.
A prolific artist in his own right Auguste continues to carve out his own niche while he establishes an enviable reputation and continues the family legacy.
Involved in innumerable solo and joint exhibitions his work is held in a huge number of private collections nationally and internationally.
---
---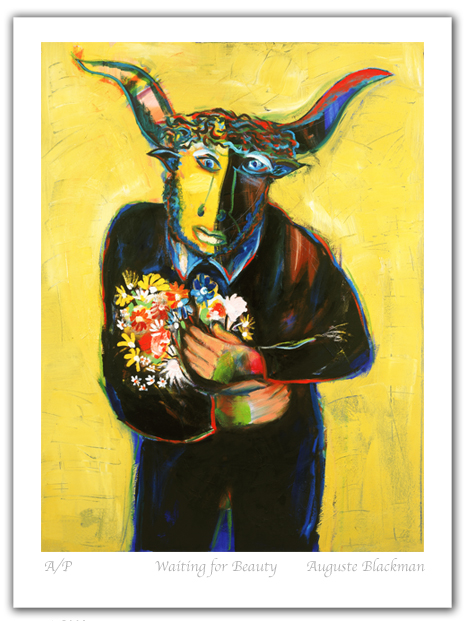 ---
B011 Auguste Blackman
 "Waiting for Beauty"
Edition of 125 + A'P's
Stock: Elegance Velvet 310 gsm Acid Free Archival Rag Paper 

Paper Size: 1120mm x 770mm or 43 x 30 inches
Image Size: 900mm x 675mm or 35.5 x 26.5 inches
Retail Price: AUD $495.00 (Inc. GST)
---
---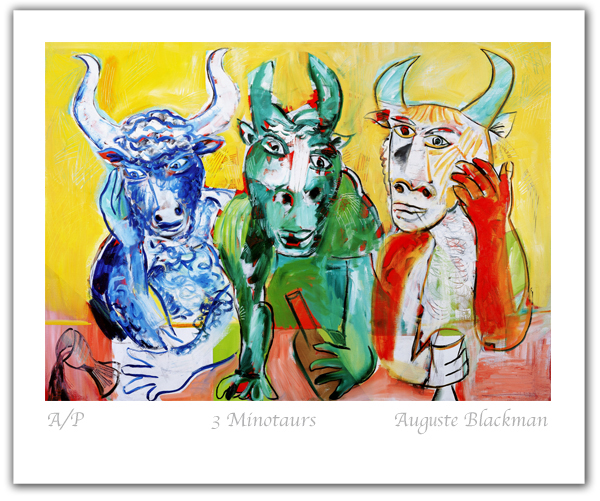 ---
B012 Auguste Blackman
 "3 Minotaurs"
Edition of 125 + A'P's
Stock: Elegance Velvet 310 gsm Acid Free Archival Rag Paper 

Paper Size: 850mm x 1120mm or 33.5 x 43 inches
Image Size: 710mm x 1000mm or 28 x 39.5 inches
Retail Price: AUD $495.00 (Inc. GST)
---
---