Sam Parkinson
Samuel Luke Parkinson b.1976.
Sam was born into a creative world in Adelaide, Australia. Growing up in the art studio of his mother, the renowned artist Judi Parkinson, Judi has works on display in the Queensland State Library and the National Gallery of Queensland. Sam's passion for art was ignited early, watching his mother teaching art classes and conducting portrait painting sittings.
Sam has carved out a career in printmaking, art restoration and as a color expert in commercial printing and art reproduction. His children's book "The Mud Buckets vs The Bumborgs", features Sam's unique illustrations, and is available in most reputable book stores. Sam has sold his works through various boutique galleries and has secured numerous commissions for many private works.
Studying artists, such as, Norman Lindsay, Ralph Steadman and MC Escher, coupled with his fascination for late nineteenth century wood engravings and etchings, have inspired Sam to create a uniquely original style of art with his own masterful technique. His use of pencil, pen, pen and ink, and pastel, allow him to create very detailed works. Each original composition can take him up to three months to complete from the developmental sketches to the final piece.
Sam lives and works in Melbourne, Australia.
---
---
---
P003 Sam Parkinson
 "Decomposition"
Edition of 250+ A'P's
Stock: Somerset 255gsm Acid Free Archival Paper
Paper Size: 550mm x 1120mm or 21.5 x 44 inches
Image Size: 355mm x 800mm or 14 x 39.5 inches
Retail Price: AUD $ 295.00 (Inc. GST)
---
---
---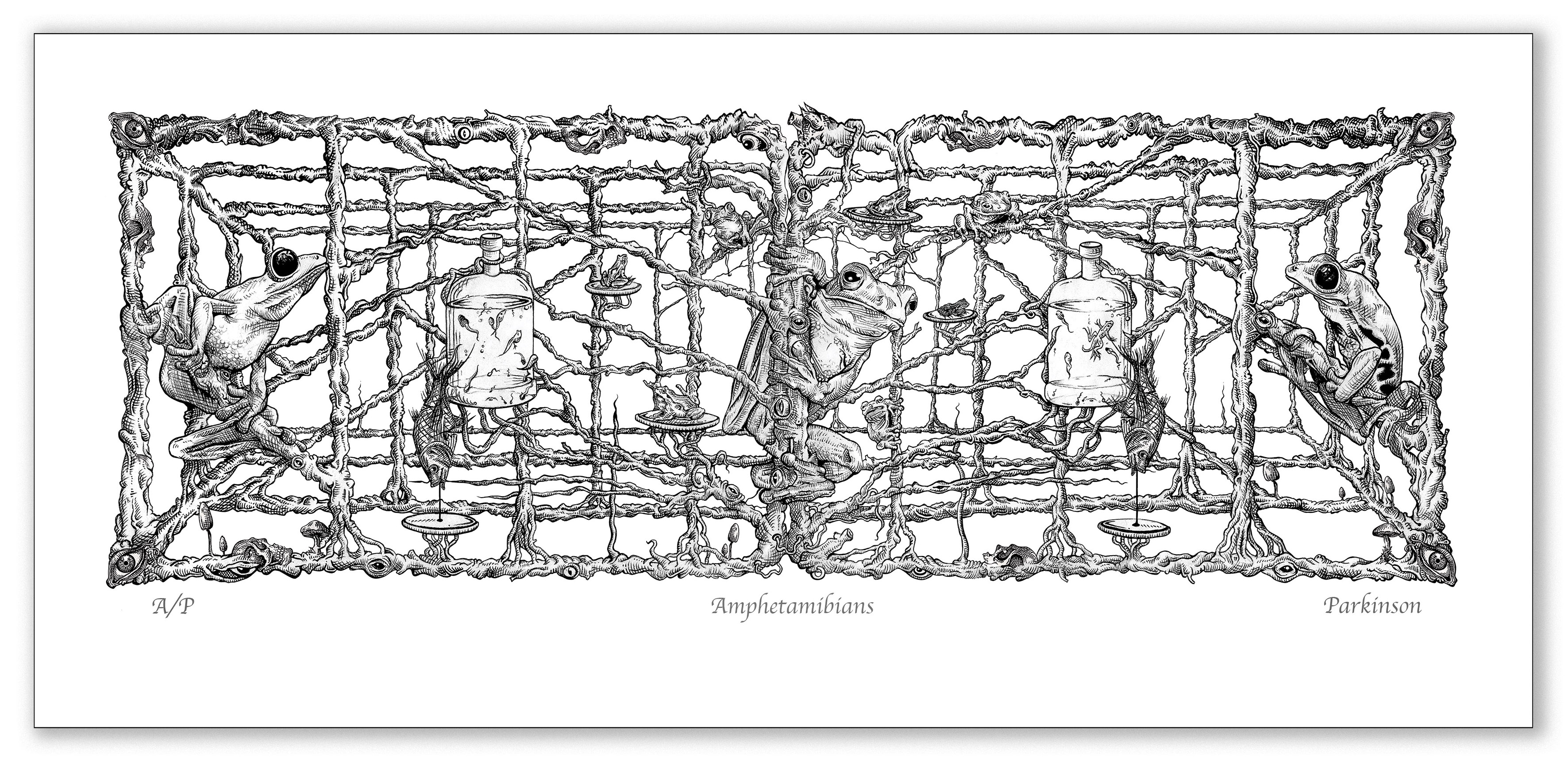 P004 Sam Parkinson
 "Amphetamibians"
Edition of 250+ A'P's
Stock: Somerset 255gsm Acid Free Archival Paper
Paper Size: 550mm x 1120mm or 21.5 x 44 inches
Image Size: 355mm x 800mm or 14 x 39.5 inches
Retail Price: AUD $ 295.00 (Inc. GST)
---