Luke Cornish
 Luke Cornish (AKA ELK) is an Australian stencil artist. In 2012, Cornish became the first stencil artist to become a finalist in the prestigious Archibald Prize, the largest portrait award in Australia. Previously he has awarded the Australian Stencil Art Prize in 2010, and was also runner-up in 2009.
From Canberra, Cornish worked regular jobs before picking up stencil art as a hobby in the early 2000's. He works by hand cutting sheets of recycled acetate with a scalpel. Most of Cornish's stencils contain up to 100 layers. He then sprays layer upon layer of paint until he is has achieved the required effect.
The subject of his Archibald entry, the famous ex-priest Father Bob Maquire, contains over 30 layers.  Cornish's portrait of the controversial Catholic priest achieved a new auction record for a work by an Australian street artist selling for AUD$34,160 during the Bonhams Australia Important Australian Art auction in 2013.
Cornish currently lives and works in Sydney. His work is held in public and private collections around the world, most notably his portrait of former Australian Prime Minister Bob Hawke, which was acquired by the National Portrait Gallery of Australia in 2013.
Cornish has just been awarded the coveted Holding Redlich People's choice award at the 2017 Salon de Refusés exhibition held at the National Trust SH Ervin Gallery in Sydney for his portrait of the artist Ben Quilty.
He continues to refine his craft, and pushes the boundaries of his medium. Cornish made a number of visits to war torn Syria to share the medium of stencil art with young people suffering from the war. He has worked tirelessly to help the children in the orphanages by directly fundraising and donating to improve their lives.
---
---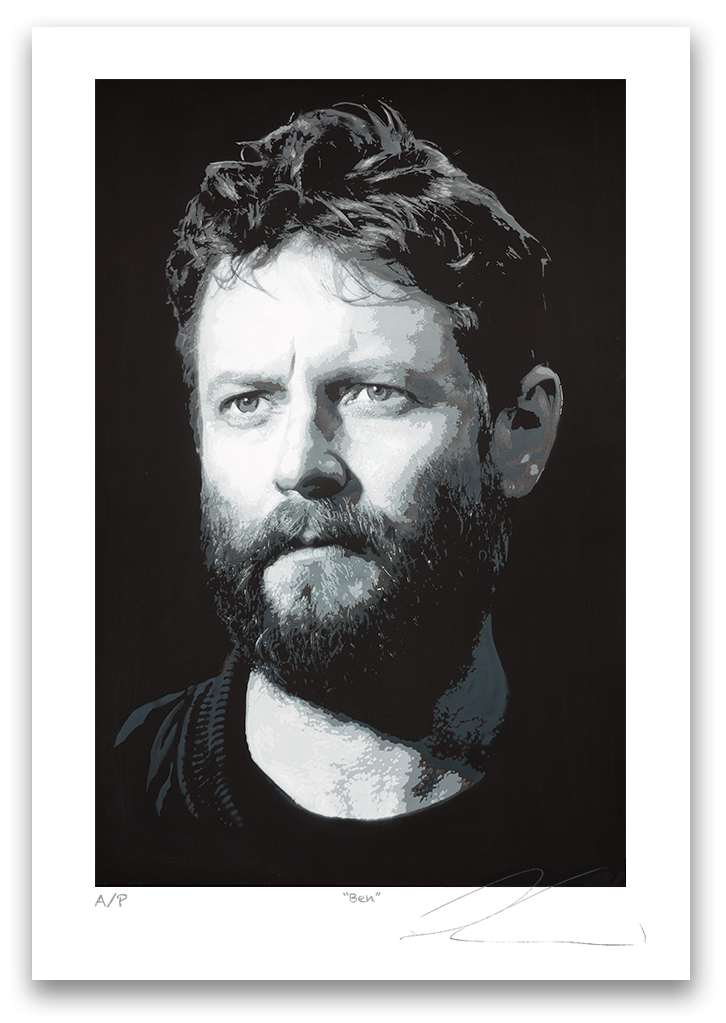 C007 Luke Cornish (aka ELK)

"Ben" (Ben Quilty)
Edition: 99 plus A/P's

Stock: Elegance Velvet 310gsm Acid Free Archival Rag Paper
Image Size: 1000mm x 660mm or 39.5 x 26 inches
Paper Size: 1120mm x 730mm or 44 x 29 inches
Retail Price: AUD$495.00 plus shipping and handling
---