yanis
Yanis was born in Adelaide, South Australia in 1959 and was raised and educated in Melbourne where he now lives.
With a personal and professional commitment to visual expression, he creates unique and immersive, abstract digital art.
Whether secretly creating images behind closed doors, as a child, or workingon eye-catching graphic artwork in his professional career, Yanishas always created highly individual imagery.
As a young high school student, he was first introduced to design, and subsequently inspired by his Graphic Communications teacher and early mentor – Mr Brian Worsey.
Introduced to geometric structures – lines, patterns, shapes, and forms,  led him to draw inspiration from the surrounding natural environment. It also inspired him to study the visual power of colour, saturation, hues, lightness, and balance.
Abstract and geometric art allows evaluation the contrasts of life.
Looking past the obvious, and decontextualizing and engaging to create and capture images, beyond the distractions of normality.
To explore shape, colour, form, function and composition, to determine an emotional feeling, in an abstract contemporary style that creates freedom from reality, and reflects originality with an inconsistent and unpredictable power of perception.
This enables Yanis to question the tension between attitudes, emotions, and fears which have evolved over time and inspired our surrounding environment and our behaviour within.
Yanis is an extremely talented artist whose work is partly influenced by the legendary painter Wassily Kandinsky. Yanis' creations are a stunning blend of colors, shapes, and textures that come together to form unique and visually captivating pieces.
Yanis' skill is truly incredible. His mastery of various techniques allows him to create artwork that is both technically impressive and emotionally resonant. His works often explore themes of spirituality, nature, and the human experience, inviting viewers to contemplate and reflect.
With a deep appreciation for the transformative power of abstract art, Yanis seeks to create work that connects with people on a visceral level. Each piece is imbued with a sense of energy and life, inviting the viewer to explore and discover new layers of meaning and emotion.

His art expresses, hope for the future and  inspires everyone's thought process to interpret art in their own highly personal and unique way, and to look carefully at the world around them, to discover ethereal beauty within their own personal environment and assess the different kinetic forms that are created by nature.
"Creativity is an expression of emotions released to help process moments of uncertainty, fear and joy"
---
---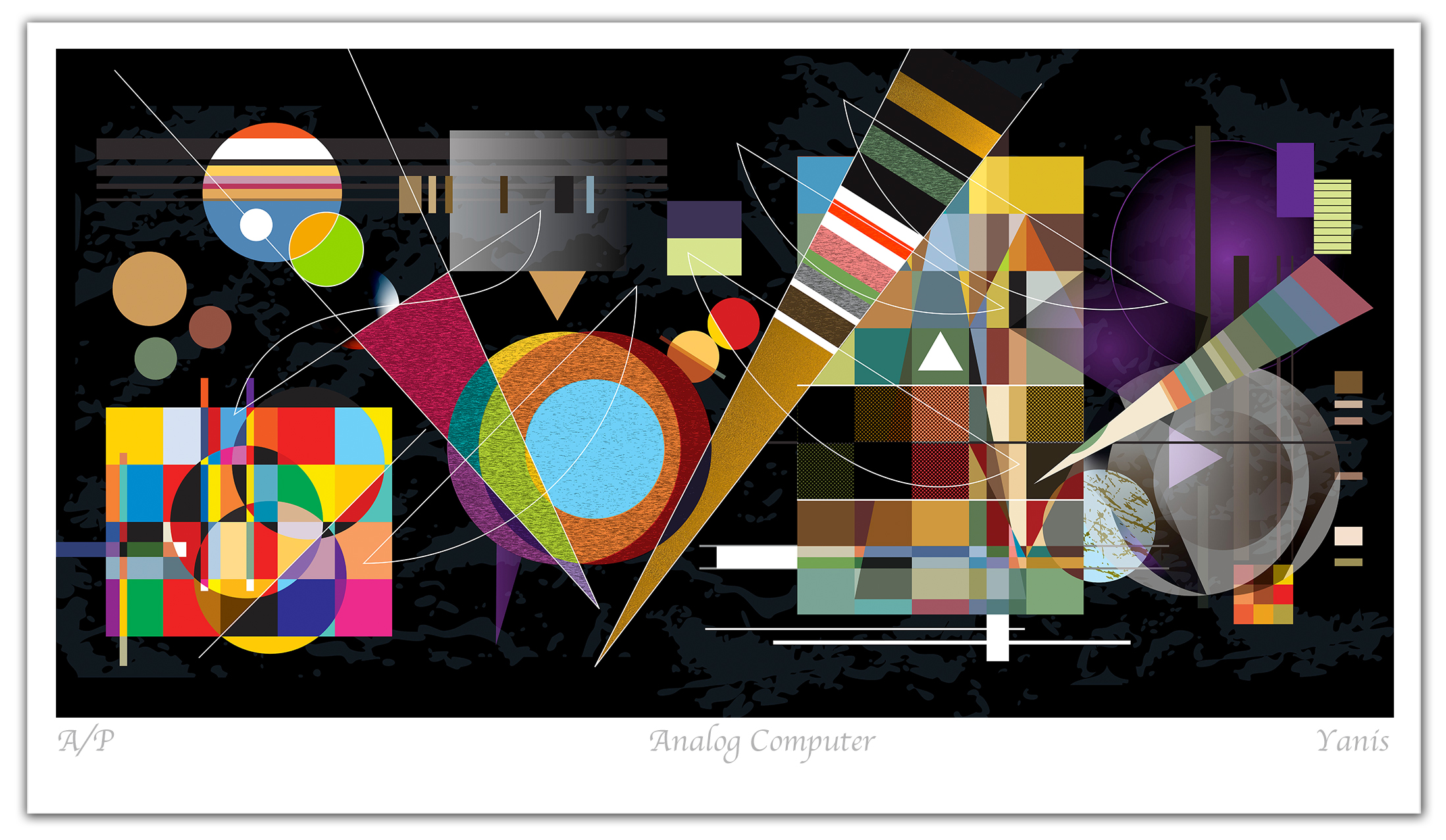 ---
Y001 Yanis
 "Analog Computer"
Edition of 250 + A'P's
Stock: Elegance Velvet 310 gsm Acid Free Archival Rag Paper 

Paper Size: 1900mm x 1120mm or 75 x 44 inches
Image Size: 1800mm x 900mm or 71 x 35.5 inches
Retail Price: AUD $795.00 (Inc. GST)
---
---
---
Y002 Yanis
 "Angle of Attack"
Edition of 250 + A'P's
Stock: Elegance Velvet 310 gsm Acid Free Archival Rag Paper 

Paper Size: 1900mm x 1120mm or 75 x 44 inches
Image Size: 1800mm x 900mm or 71 x 35.5 inches
Retail Price: AUD $795.00 (Inc. GST)
---
---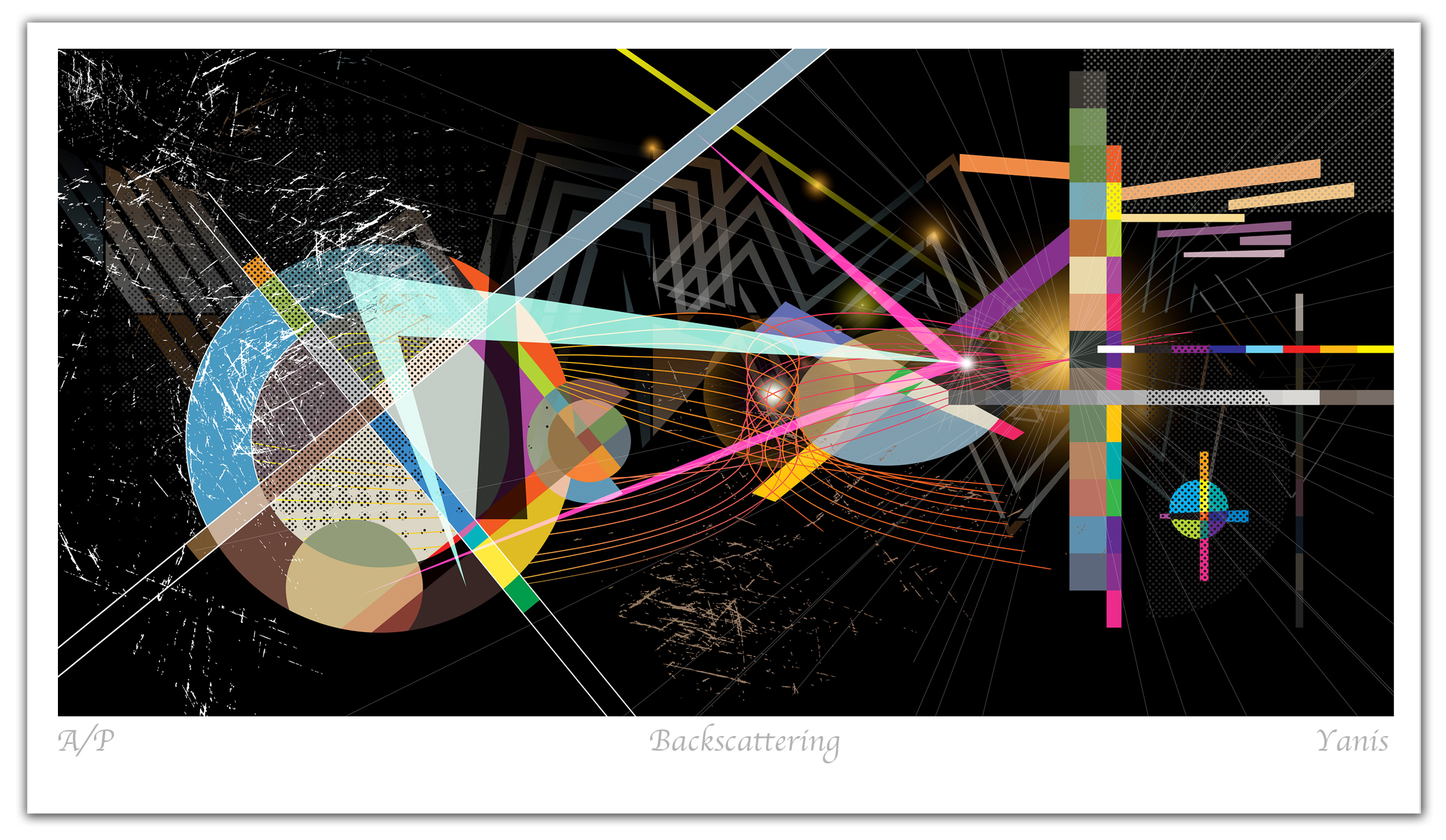 ---
Y003 Yanis
 "Backscattering"
Edition of 250 + A'P's
Stock: Elegance Velvet 310 gsm Acid Free Archival Rag Paper 

Paper Size: 1900mm x 1120mm or 75 x 44 inches
Image Size: 1800mm x 900mm or 71 x 35.5 inches
Retail Price: AUD $795.00 (Inc. GST)
---
---
---
Y004 Yanis
 "Solar Flare"
Edition of 250 + A'P's
Stock: Elegance Velvet 310 gsm Acid Free Archival Rag Paper 

Paper Size: 1900mm x 1120mm or 75 x 44 inches
Image Size: 1800mm x 900mm or 71 x 35.5 inches
Retail Price: AUD $795.00 (Inc. GST)
---
---